Return to Headlines
RLHS Fall 2 Sport Contact Day Registration
We are excited to announce that we will be hosting sport-specific contact days for high school students this fall. The safety of our staff and students is our utmost priority. As such, the following precautions will be taken for all sessions.
Maintain social distance by being 6 feet apart;
Athletes attending outdoor practices will need to wear a mask when appropriate social distancing is not maintained;
Athletes attending indoor practices will need to wear a mask at all times;
Coaches will wear a mask at all times;
Daily temperature and symptom check;
Physical contact is limited during this phase based on the table below;
Follow gathering guidelines of pre-determined groups of 50 or less, including the coaches and medical personnel;
Avoid interaction between groups of 50;
Implement diligent and effective cleaning and disinfecting of frequently touched objects and surfaces;
Students must bring water to camp (shared water stations and fountains are not available)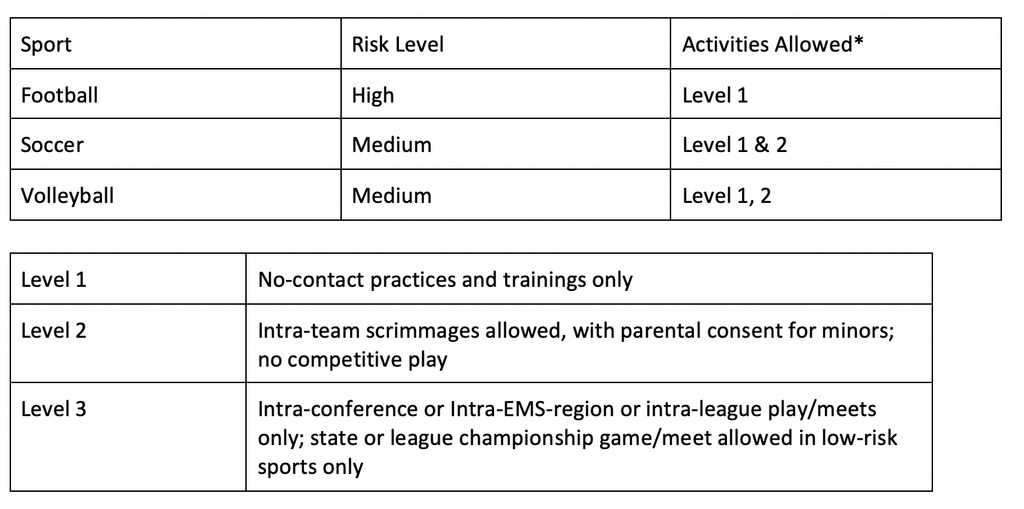 Below you will find the link to register for the sport of your choice. Students will only be able to participate in one sport per session. These contact days are only open to current RLHS students. All contact days are optional for athletes and not required to be considered for a position on a team for the 2020-21 school year.

Session 2: Fall 2 Sports
Information for other sports will be sent out closer to the start date of those sessions, see below.
Winter Sports: B/G Basketball, Bowling, Cheer and Wrestling - October 16-31, 2020
For further information, please contact the Athletic Department at 224-842-2020.
Sincerely,
Becky Moran, CMAA
Athletic Director
Round Lake High School
---
Registro del día de contacto deportivo de otoño 2 de RLHS
Nos complace anunciar que este otoño organizaremos días de contacto específicos de deportes para estudiantes de secundaria. La seguridad de nuestro personal y estudiantes es nuestra máxima prioridad. Como tal, se tomarán las siguientes precauciones para todas las sesiones.
Mantener la distancia social permaneciendo a 6 pies de distancia.
Los atletas que asistan a las prácticas al aire libre deberán usar un cubreboca cuando no se mantenga un distanciamiento social adecuado.
Los atletas que asistan a las prácticas en el interior deberán usar un cubreboca todo el tiempo.
Los entrenadores usarán un cubreboca en todo momento.
Habrá control diario de temperatura y síntomas.
El contacto físico es limitado durante esta fase según la tabla a continuación.
Seguir las pautas de recopilación de grupos predeterminados de 50 o menos, incluidos los entrenadores y el personal médico.
Evitar la interacción entre grupos de 50.
Implementar una limpieza y desinfección dedicada y efectiva de objetos y superficies que se tocan con frecuencia.
Los estudiantes deben traer agua al entrenamiento (las estaciones y fuentes de agua compartidas no están disponibles).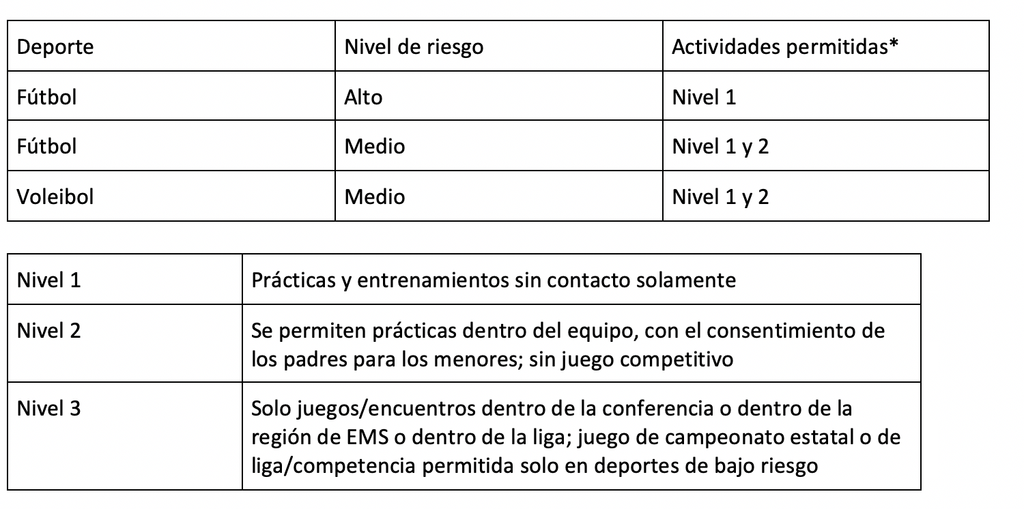 A continuación, encontrará el enlace para registrarse en el deporte de su elección. Los estudiantes solo podrán participar en un deporte por sesión. Estos días de contacto solo están abiertos para los estudiantes actuales de RLHS. Todos los días de contacto son opcionales para los atletas y no es necesario que se los considere para un puesto en un equipo para el año escolar 2020-21.
Sesión 2: Deportes de otoño 2
La información para otros deportes se enviará más cerca de la fecha de inicio de esas sesiones, ver más abajo.
Deportes de invierno: Básquetbol masculino y femenino, juego de bolos, animación y lucha del 16 al 31 de octubre de 2020
Para obtener más información, llame al Departamento de Atletismo al 224-842-2020.
Atentamente.
Becky Moran, CMAA
Directora de Atletismo
Round Lake High School